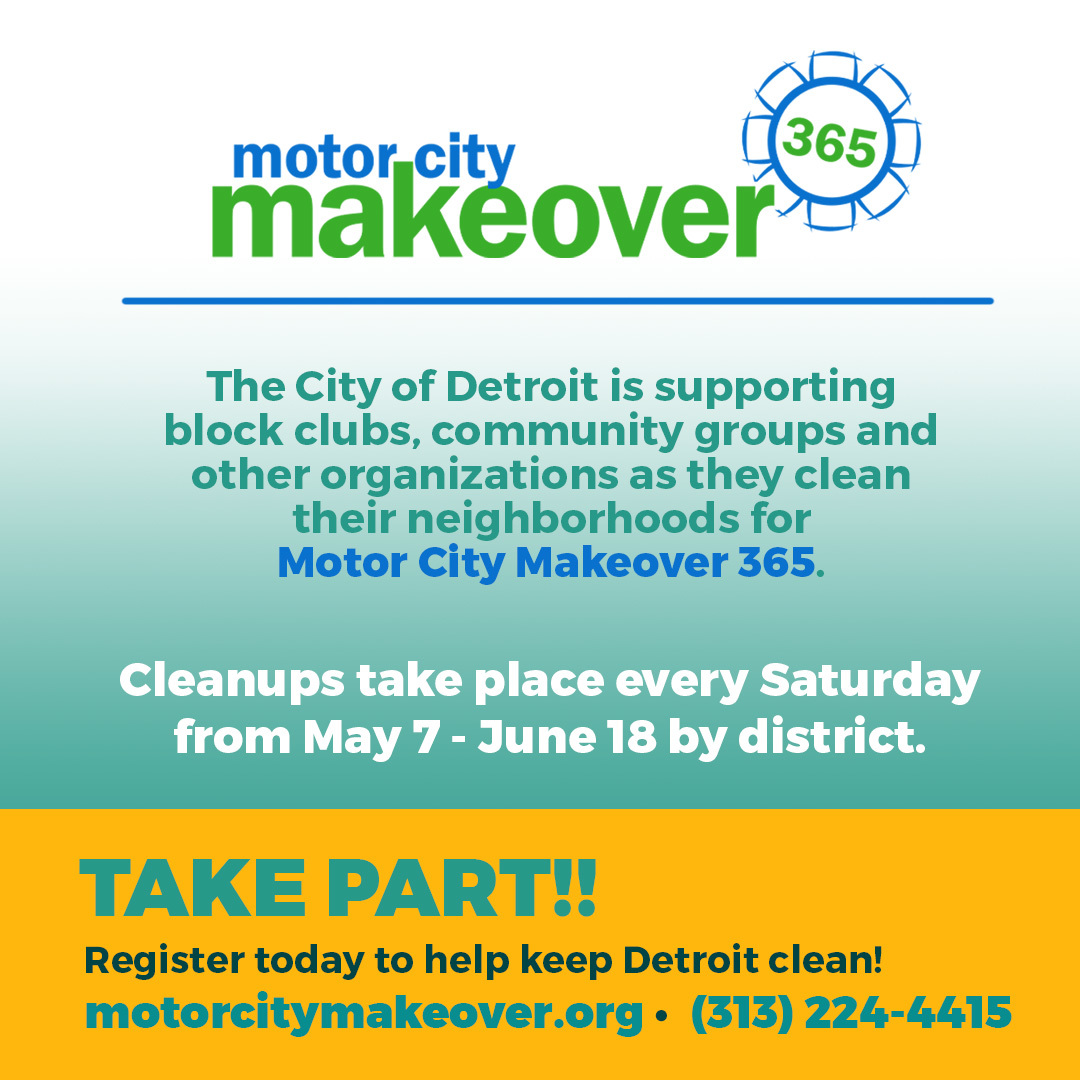 Registration for volunteers is now open! Register Here
Any questions or concerns are to be sent your district managers
Motor City Makeover 365 has evolved over the past 30 years. MCM365 is an annual citywide volunteer cleanup and beautification initiative. Partnering with block clubs on their clean-up efforts has become essential to the success of this initiative over the years. Clean-ups are scheduled by Council Districts on specific weekends throughout May and June. Individuals and groups MUST register with the City of Detroit to receive limited supplies and to schedule special pickups. As our neighborhoods continue to evolve because of your clean-up efforts, we encourage beautification efforts all year round. For example, getting involved with Earth Day events, flower planting, neighborhood day, anti-litter campaigns, safe routes to schools, or recycling training and events!
May 7
District 1
May 14
District 2
May 21
District 3
May 28
June 4
June 11
District 4
District 5
District 6
 
June 18
District 7
Detroit Brick-and-Mortar businesses that are interested in participating in Motor City Makeover 2022, can get involved in a number of ways:
Take the Clean Corridor Pledge
Host a Clean Up/Beautification Event
Donate to Motor City Makeover
Volunteer!
If you have any questions, please contact your District Business Liaison at www.degc.org/district-business-liaisons/ 
Keep Detroit Beautiful Flower Day 
Flower Day is an opportunity for Block Clubs, Neighbors, and Business Owners to beautify their community for the improvement of their Visual Quality of Life.  Join Us by planting a vision and deterring blight.