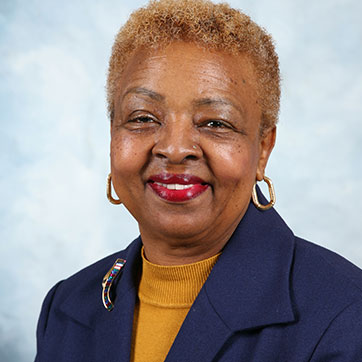 Annie Holt
Annie Holt is a native of Birmingham, Alabama, and arrived in Detroit in 1967, the summer of the historic community rebellion. She is the mother of three daughters and has five grandchildren.
In her new hometown, Holt soon became rooted in working for the progress of Detroit and its residents, especially its youth. She had a passion for education. At the age of 40, she earned a Bachelor's of Science Degree from Wayne State University and later earned a Master's Degree there. During her 24-year career with the Detroit Public Schools, she taught middle school students. Holt often worked with state and national leaders to prevent bias in standardized tests and to ensure best educational practices.
Holt is very active in the community. She has volunteered with Michigan CASA, the court-appointed special advocate for children. As a member of Hartford Memorial Church, she served as co-director of the Rites of Passage Program to educate youth about their history and escorted youth to west coast Africa. She also conducted adult education lessons in a prison outreach program with the Fund for African and African American Cultural and Educational Solidarity. She is a member of Delta Sigma Theta and a Michigan AARP-appointed volunteer advocate.
A resident of the Grandmont #1 Association subdivision since 1978, Holt serves as a board member and as chair of its Senior 50+ Committee. She takes on numerous community projects, from working whether as a volunteer with the city's effort to survey every parcel of land or helping people sign up for medical coverage under the Affordable Care Act.
Holt, who says she is "retired with a purpose," became an at-large Police Commissioner in February 2019, following her appointment by Mayor Duggan and confirmation by the Detroit City Council.
City Council President
Off